5" TFT Display (TFT050A101C)
This 5" TFT features a super bright 1,000 cd backlight that delivers a 50K hours half-life.
It offers an excellent WVGA resolution, 5:3 aspect ratio and gives bright and vivid images in the brightest outdoor and directly lit environments.
As a result, this panel can be used to replace existing displays where more brightness is required with only small modification to the backlight supply circuit.
Display Features
Size: 5" - 9"
Type: TN TFT
Feature: High Brightness
Feature: Industrial Backlight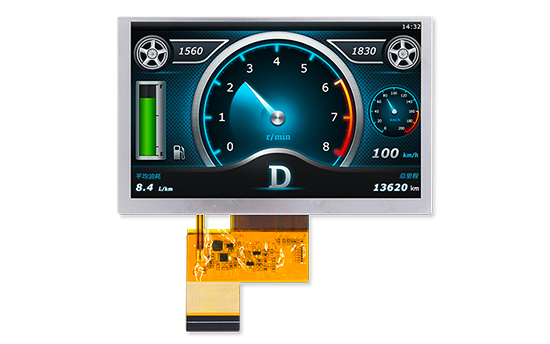 Display Specs
| | |
| --- | --- |
| Part Number | TFT050A101C |
| Display Type | TN TFT |
| Screen Size | 5" |
| Resolution | 800 x 480 |
| Shape | Standard |
| Aspect Ratio | 5:3 |
| Viewing Angle | 12 o'clock |
| Brightness | 1,000 cd/M² |
| Backlight Half-Life | 50K Hours |
| Contrast Ratio | 500:1 |
| Interface | RGB |
| Connection | ZIF |
| Operating Temperature Range | -20°C to 70°C |
| Dimensions (W x H x D) | 120.7 x 75.9 x 3 mm |
| Active Area (W x H) | 108 x 64.8 mm |
Customisation Options Available