Blog: Bringing a Car to Life: Audio Visual Systems in the Automotive Industry
June 22, 2018 / Blog , Displays
The modern car has transformed. Gone are the driving machines of our past; instead, a car is now more.
It's an entertainment system, a navigation device and a communication tool. It's a drive, but not as you remember it.

The automotive and technology industries have always shared a close relationship, with most manufacturers aiming to provide as premium an experience as possible in their cars. From early satellite phones to GPS systems and now full infotainment systems, automotive brands vie to offer the best technological experiences in their cars that excite customers and help them stand out from the crowd.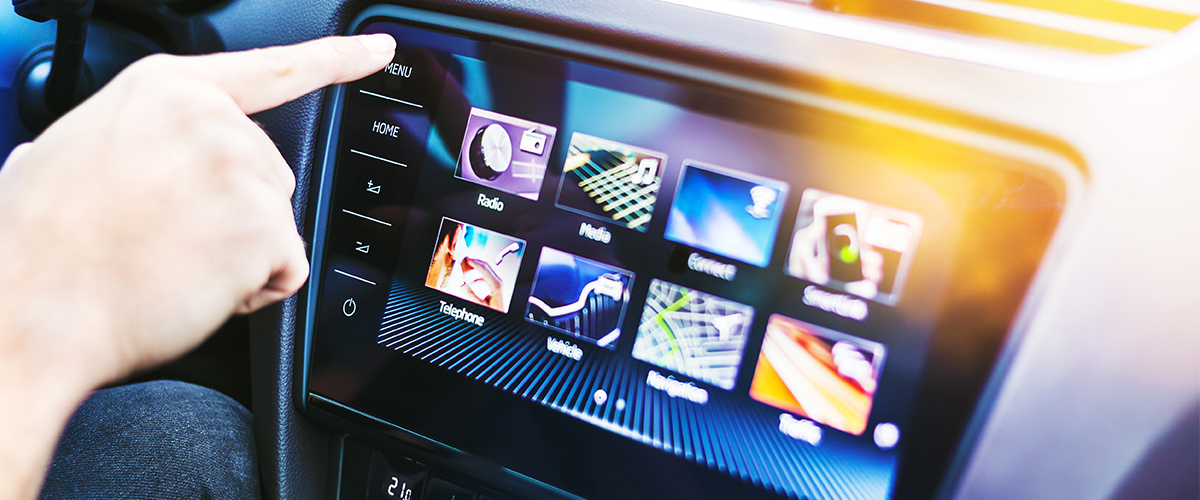 Some key user-facing audio/visual milestones include:
In-dash disc players – circa 1985. The first replacements for cassette decks, these early disc players also featured simple displays.
GPS navigation – circa 2000. Removing the reliance on additional systems, GPS navigation was built into luxury vehicles.
Bluetooth integration – circa 2001. Being able to talk hands-free using a Bluetooth smartphone changed the world of driving forever.
Rear view cameras – circa 2002. Making parking safer, these displays were placed in car dashboards and allowed users to see behind them as they reversed.
Screen technology was once reserved for the most premium cars. Now, however, full colour displays are becoming increasingly present in modern cars in varying forms. Luxury brands are instead building 'smart cars' that feature more computing power than PCs. Quality displays in vehicles are no longer reserved for premium – they are beginning to be expected.
Of course, the A/V systems in cars are far more than just display technology. With innovations such as parking cameras, touchscreen performance, Bluetooth integration with smartphones and in-built GPS, car displays now enable users to do more than ever before.
Driving display technology forward
The first displays featured in cars were simple mono LCD panels for CD players, which usually kept the time and displayed basic track information. These players still exist and are used in budget vehicles but have since advanced to offer far higher screen resolution.
More modern cars began to incorporate full colour technology for two reasons: to accommodate safety features, such as parking cameras and GPS systems, and to offer a more intuitive user experience. TFT LCD panels have become the norm, used to display navigation, menu screens, parking sensors and more. The more advanced cars offer touchscreens that enable drivers to navigate their infotainment device more easily.
These devices also typically allow users to control elements of their vehicle, from engine 'mode' to audio performance and air conditioning levels. As such, ease of use is an important factor that all manufacturers must consider. Displays sourced for use in cars should be highly visible in all situations, unhindered by the glare of the sun or the driver's viewing angle. The audio systems employed by cars have grown in scope too, with modern vehicles now offering an unparalleled level of control over audio output, interactivity with smartphones and digital radio.
Ultimately, manufacturers in the automotive industry now face a public expectation to offer great audio/visual experiences. At GTK, we can help make this a reality by offering a range of exceptional display panels, from basic mono options through to high speed IPS TFT displays. Our displays can be customised with options such as capacitive touchscreens, bespoke cover lenses and a range of optical enhancements. We also offer customised connectors and cable assemblies that give you heightened efficiency when designed to fit perfectly within the vehicle.