Blog: HMI and the rise of touch
June 17, 2019 / Blog , Displays
There are many milestones in the development of the Human Machine Interface (HMI).
Beginning with Sir Clive Sinclair, his ground-breaking keyboard design and vacuum fluorescent starburst character display signalled the first step in connecting the user to a complex electronic device, with no prior knowledge of how to use or programme it.
Fast forward fifty years and we find children today are introduced to high quality, highly complex user interfaces almost from the moment they are born, as evidenced by a video recently circulated on social media showing a baby attempting to zoom in on a picture in a magazine with two fingers.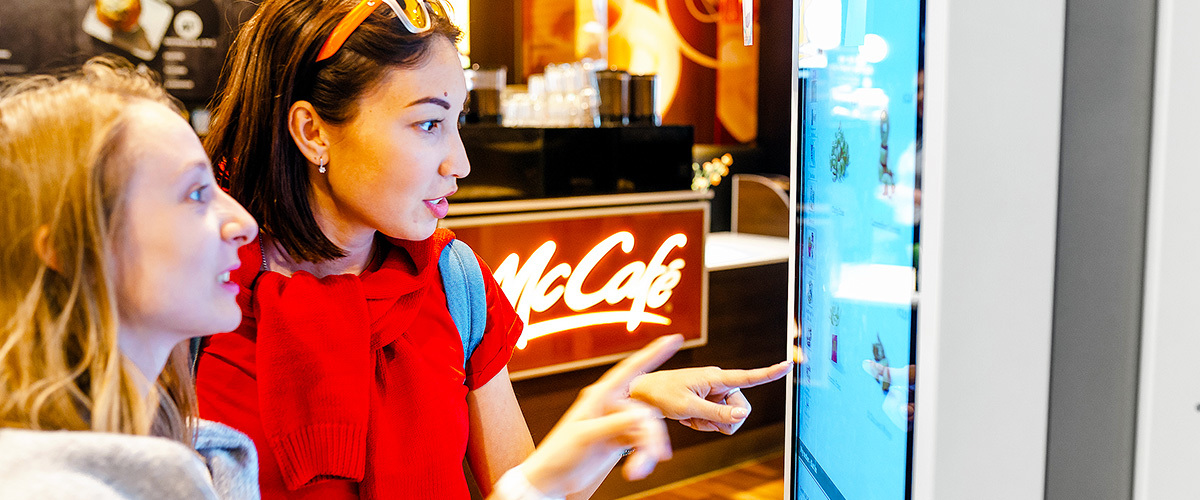 So why does that matter if I'm designing a fire alarm or a wall thermostat?
The millennial comes in for a lot of flak but there is no escaping the fact that today's young are tomorrow's customers. This generation has grown up with an amazing ability to understand complex products; they wouldn't countenance getting on their hands and knees to programme the video recorder. If they can't connect to it with their phone and programme it from anywhere in the world, they won't bother. They expect a level of in-built connectivity and functionality, and for your product to be usable immediately, flexible and adaptable to their needs. With regards to aesthetics, they expect a sleek, beautiful interface that is strong and tough, fast to respond and flexible. In the time it would take a Ferguson TV to warm up, they have fired up their iPhone and are already five minutes into Game of Thrones.
It's not just fashion, it's a serious issue. Your product might be competent and carry high levels of approvals but if it looks clunky and out of date, they won't buy it, turning instead to something that looks and feels how they expect.
But I can't afford a fancy colour touchscreen on my budget
Designers often regard this kind of HMI as for high volume consumer goods only, but this isn't true. It's possible to source custom designed touchscreen HMIs in low volumes and at a tolerable cost. In fact, if the designer takes a holistic approach, it's likely to greatly enhance the functionality of your product and take cost out in other areas to offset the cost of the HMI.
But my electronics can't drive this kind of device
There are many amazing solutions out there today. The introduction of ARM's Cortex product ten years ago revolutionised the microcontroller market, enabling hitherto difficult and expensive features like Ethernet, Wi-Fi, gyro/accelerometer, USB etc. and at low cost to acquire. These devices are reputed to achieve 100Mbps for one US dollar in high volume and that benefit has filtered down into the industrial market.
Single Board Computers (SBC) with operating systems have proliferated at an amazing rate, the most famous of which is Raspberry Pi and is reputed to be shipping at 15,000 units a day. The recently launched Compute Module is aimed at the industrial market and offers 700 MHz quad-core performance with amazing levels of support and integration, all for $25. This device can drive a touch HMI directly, with no additional cost and no engineering time - just connect it up and off it goes.
So how do I go about getting a touch HMI?
Firstly find a TFT display of a suitable size for your user and to fit in your product. These are available from sizes small enough to fit in a watch, up to a metre across, but popular sizes like 7 inches and 10.1 inches are a good choice because of multiplicity of supplier and wide usage.
Then decide whether you need any enhancements. For outdoor applications, sunlight readability; for walk past applications, you might want all round viewing angles or high resolution. Some applications require the truest possible colours and Quantum Dot technology will address this in the future. It's also possible to get combined displays with a very low power character display overlaid on a TFT so sleep and standby power usage requirements can be achieved whilst in use.
Next decide on your interface. TFTs routinely come with RGB16/18/24 or LVDS interfaces and many have MIPI (DSI) built in, but more and more HDMI is available making hooking up an SBC a doddle.
Then pick your touchscreen. I2C interfaces are popular for micro based designs and USB for SBCs but you might also want multi point touch, or even input from a gloved hand.
Finally, select your cover lens. You may want thick glass for high impact resistance or coatings for fingerprint prevention or anti-glare. The cover is normally designed to be slightly bigger than the display so it can be fitted onto the front of your product, perhaps in a rebate or right up to the edge to provide that sleek, beautiful finish you're after. The cover lens is often screen printed to cover the peripheral of the active area and colour matched to the off screen to give an 'all black' effect like a smartphone. At this point you can add branding to the screen, adding a logo or model details making it truly bespoke to you.
Using a fully assembled HMI unit this way not only provides the finish and ergonomics the modern user expects but it can also be economical. The HMI vendor warranties the whole part, so if something goes wrong, you're not throwing away screens because the touch doesn't work properly and furthermore you don't need a clean room or expensive jigs to do complex assembly work that adds nothing to your product's competence or value.
In some cases, additional electronics can be added, protocol or interface bridges for example. These are often bespoke to the specific TFT screen and it makes sense to leverage the screen designer's knowledge to optimise this part.
The often-criticised millennial is here to stay and they expect levels of ergonomics, connectivity and finish that match the devices they use every day. You can design for them without breaking the bank and without throwing away years of hard-won knowledge and experience in your product and application. They will quickly take up your product and find out how good it really is.
Article originally featured in the May 2019 edition of CIE.