Blog: An interview with GTK's work placement student
September 27, 2023 / Blog
We're passionate about supporting the next generation of talent into the world of work at GTK.
So, we were delighted to welcome Tom Robinson, an economics student at Bournemouth University, to spend his placement year with us during his third and penultimate year.
Tom recently completed his placement at GTK, so we sat down to speak to him about his experience, why he came to GTK and what he's learnt.
What made you choose GTK for your workplace and how did you go about approaching the company?
I had a few options on the table, and GTK was my preference. Having interviewed at GTK, I felt that the experience I'd get here would be infinitely more valuable than the other companies I'd considered.
I used to be quite shy, but everyone really helped me to settle in. I felt like I could express myself as an employee. I went in willing to learn; I'm young and knew little about business and the industry, and that knowledge helped my colleagues too.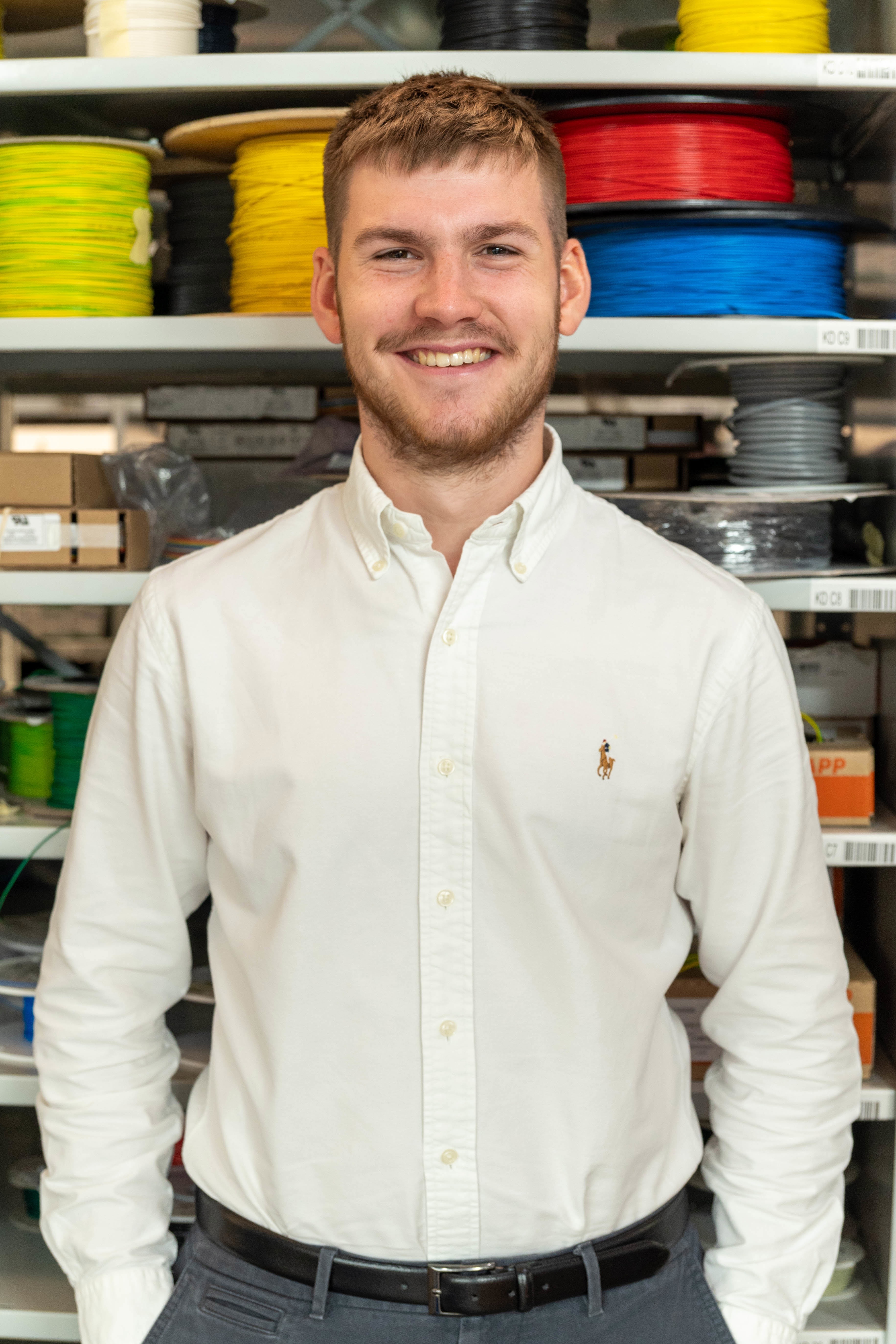 I actually started off on a general engineering placement, where I'd bounce around different departments and learn a range of skills. However, within my first few weeks, a colleague left the business and I got offered the role of Manufacturing Technician. In this role I was responsible for the maintenance and calibration of GTK's large array of hand crimp tools, as well as ensuring that all the automated production machinery was regularly serviced. I was also actively involved in all engineering projects and meetings, with the full responsibilities of a technician within the company.
Tell us about some of the highlights of your year at GTK
I'm proud that I implemented a ticketing system with the support of my team. There are two levels in the GTK head office; the ground floor is GTK's UK manufacturing shop floor, where we build our custom cable assemblies and box build electronics, and the first floor is our main office.

Previously, our production team would need to come upstairs constantly to ask questions or report issues to our engineers, and it took a lot of time out of their day. I introduced the ticketing system, where our production team leaders could log tickets via their computer and send them upstairs, increasing their efficiency. It was also great for traceability, and we're looking to expand this system to our eastern European manufacturing facility in Romania.
An exciting recent personal achievement was visiting our factory in Romania. It was my first business trip and was really fun, as well as a huge learning curve. I had a lot of business etiquette to learn. The goal was to get our Romania and UK facilities working closely together. Kai Smith, our Operations Director, thought I was the man for the job and with support from our HR Business Partner, Leanne Matthew, and my line manager (and GTK's Engineering Director), Matt Eden, I got to go on the trip.
What have you learnt in your time at GTK?
I've learnt so much in my year here. Firstly, I got a greater sense of routine and responsibility working at GTK. I started university during the COVID-19 pandemic, so everything was online during my first year – I didn't go onto campus at all. It was hard to stick to a routine and be motivated.
Working full-time at GTK completely shifted my mindset – it helped me to mature and boosted my work ethic. While it was easy to be a bit idle when university was remote, I was able to get out of that and now my mindset is totally different going into my third year.
"What I loved was that I could talk to anyone at GTK. Matt and Kai both are both at the director level and they made me feel totally comfortable. I always felt included and like I was worth everyone's time."
I also learnt so much about how businesses operate and how to behave in a business. What stuck with me is how crucial communication is to a business. There are so many holes that can be filled and issues that can be resolved by simple communication, and things can break down without it. Whether it's a simple email or chatting to someone in the office, it's all vital.
What kind of support did GTK provide you throughout your placement?
GTK gave me support and reassurance throughout my placement. My line manager, Matt, was great with me. He's a really good manager and he has this great ability to come up with an idea and let another person run with it – that's really underrated.
The ticketing system I worked on was Matt's idea – he briefed me on it and gave me the opportunity to implement it, which was important to my growth and experience. Sandra Lewis, GTK's HSE Advisor, has given me fantastic support too. She's brought me into projects and activities when she needed support and knew I could learn and grow from them.
What I loved was that I could talk to anyone at GTK. Matt and Kai both are both at the director level and they made me feel totally comfortable. I always felt included and like I was worth everyone's time.
I'd really like to thank GTK for taking the time to bring me in and develop me, and to everyone there for being so kind. I've learnt an unbelievable amount and I can say the person I am now is completely different to the one who started!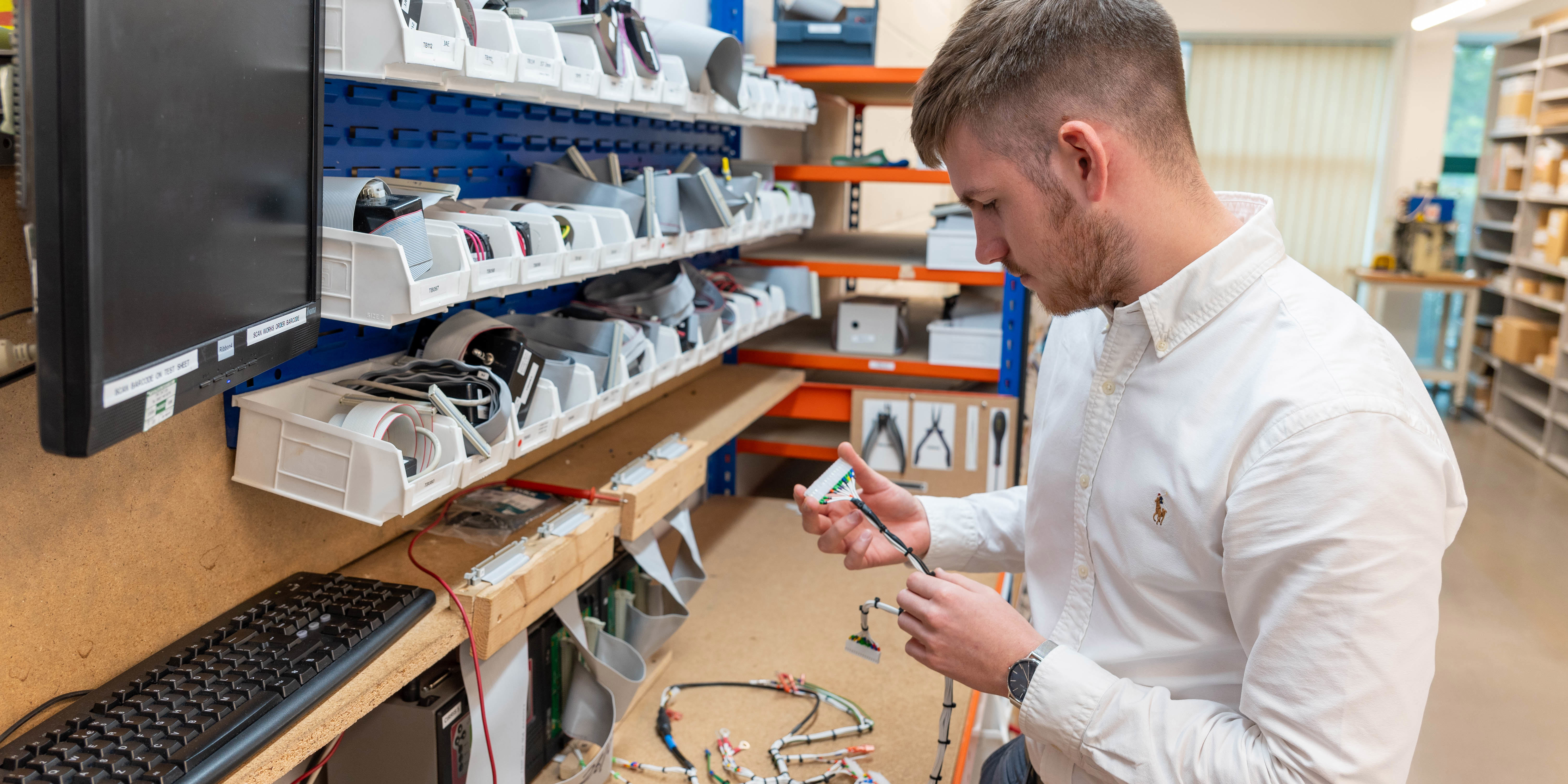 Has your time at GTK changed or shaped your career goals?
My time at GTK has helped me understand what I enjoy at work, and that's vital to understand so I can seek out jobs that interest me. I don't have a defined role I want to go into, so I'm still willing to learn and get stuck into different things.
What I really loved getting involved in was data analysis. I love working with data and I'm a bit of an Excel geek. When numbers are done right, they don't lie, and that gives you so much valuable insight. I've really enjoyed and excelled in projects that have been Excel-focused.

You've won an award at university – can you tell us more about that?
I won an Innovation Award in our Undergraduate Employability Awards for the ticketing system I implemented at GTK. I was in regular contact with my university placement advisor for support and they nominated me for the award! There are multiple awards with around 50 winners – I've been invited to the awards ceremony in late September where an overall winner will be selected for each award.
What advice would you give to university students about to start their work placement?
Be open-minded when you go into it and embrace your learning opportunities. Make sure you ask as many questions as possible – there really is no such thing as a stupid question because these placements are designed to help you learn. Asking for help shows maturity and it helps you get better at what you do.
Make a good first impression – reputations last in business. If you give off the impression you're only there because you have to be, you won't get as much value out of the experience. Be punctual, polite and reliable, and understand that everyone is there to help you.
We're pleased to see that Tom gained so much from his experience at GTK and we wish him all the best in his final year of study and future career!